Don Byas, the tenor who forms the bridge that links the swing and bebop eras, used to say "I don't play the saxophone–I play the sexophone.
You can understand his transliteration if you believe that the greater part of that basic human function is gentle seduction, and not just rocking penetration.
Byas, born Carlos Wesley Byas in Muskogee, Oklahoma in 1912, played in two of the leading Midwestern "territory" bands of jazz's early days, Bennie Moten's Kansas City Orchestra and Walter Page's Blue Devils. After a short stay in California, he came to New York in 1937 and played with Don Redman and Lucky Millinder, but other than a brief but noteworthy solo on "You Set Me on Fire" with Andy Kirk's Twelve Clouds of Joy, he left no mark during this period.
All that changed when he took over the tenor chair previously occupied by Lester Young in the Count Basie Orchestra in 1941. The Basie band recorded frequently, and Byas' solo on "Harvard Blues" was recognized immediately for the aesthetic that would mark his playing for the rest of his career; a gorgeous tone, an athletic vigor and a sense of form. His solos had a beginning, middle and end, and were not just repetitious riffing or bombastic blowing.

Andy Kirk and His Twelve Clouds of Joy
Byas came of age when jazz was bounded by the 78 rpm records of the day. Songs were limited to three minutes or thereabouts, and the concision imposed by that format made you or broke you as a soloist. You had to have something to say, know how to say it, and be able to bring your thought to a conclusion with something resembling aplomb. Contrast the well-crafted solos produced by Byas under that regime with the meanderings produced by tenors in 60s and 70s and you will agree that it is better to spend a brief moment with a genius than a quarter hour with a bore.
Byas was more than just a miniaturist, however. As a omnivorous participant in the late night "cutting" sessions where New York musicians established their relative rank in the manning of rutting bull mooses, Byas was capable of taking and holding the stage against up-and-comers, one of whom (Allen Eager) simply walked off to get a drink after Byas launched into a lengthy improvisation to Cherokee, a notoriously difficult set of harmonic changes that Byas had chosen as a challenge. You can get a sense of the extended invention he was capable of by listening to his solo on I Got Rhythm that is included in the Smithsonian History of Jazz and the Commodore Sessions, both still in print.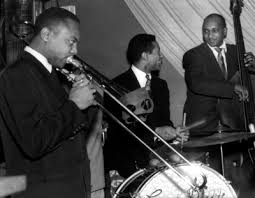 Max Roach, drums, Oscar Pettiford, bass
Byas would form an adjunct part of what is generally recognized as the first bebop group in 1944, jamming regulary with trumpeter Dizzy Gillespie, bassist Oscar Pettiford, pianist George Wallington and drummer Max Roach. When Dizzy got his first date as leader a year later, Byas joined him for the sessions that produced the bop classics Night in Tunisia and 52nd Street Theme.
Byas's rhythm, phrasing and harmonic ideas remained rooted in the swing era, but he could match the young pioneers, with their high velocity and harmonies that Louis Armstrong famously derided as "Chinese," note for note.
In 1946 Byas made a fateful decision that accounts for his relative obscurity today; he left for Europe on a tour put together by Don Redman and didn't return for another 24 years. By then both swing and bop were history, and the fashion in tenor solos had moved on to a sound that resembled, in its most extreme form, a man having an argument with his instrument.
Byas stayed in Europe in part to avoid the New York haunts of his younger days, when he had developed a drinking problem. He seemed to find peace in Europe, where he became an exercise fanatic, invariably inviting friends whom he hadn't seen for awhile to punch him in the gut as hard as they could to prove how fit he was keeping himself.
He also became something of a bon vivant, serving up Louisiana fare to friends and his many female admirers. He found his way to more than a few women's hearts with both his sax and his cooking.