When a sportswriter is at a loss for a figure of speech that will capture the essence of an act of particular athletic grace, he will often reach down into his laptop bag and pull out a manila folder marked "Metaphors, Ballet." 

Lynn Swann, who actually took ballet lessons.
When a Venezualan shortstop flies over a sliding baserunner, it's ballet.  When a wide receiver reaches between two defensive backs to snare an errant pass, it's ballet.  When a boxer bobs and weaves out of a barrage of blows, then counters with a right cross to the head, it's ballet, albeit with brain damage.

DiMaggio and Anna Pavlova:  Not that easy to tell apart, are they?
The practice has been around for awhile–I've no doubt Grantland Rice compared Joe DiMaggio to Anna Pavlova–but it really took off in the mid-70′s, when the American Basketball Association merged with the National Basketball Association and Julius "Dr. J" Erving moved from the relative obscurity of the ABA to the NBA, with its network television coverage.  Erving could leap to dramatic heights, and appeared to suspend himself in air when beginning a dunk from the foul line, or going behind the backboard to avoid an outstretched defender's arm.

Julius "Dr. J" Erving, Mikhail "Dr. M" Baryshnikov
I yield to no man–well, maybe Mikhail Baryshnikov–in my appreciation of the utility of this practice, although I wonder why nobody ever connects the dots, a la Pee-wee Herman, in the opposite direction.
If we all agree that ballet-sports comparisons are accurate, why doesn't anybody take it to the next level–and start a competitive ballet league?  I mean, what's sauce for the Denver Nuggets is sauce for the corps de ballet, right?

The beauty, the grace, of the Phoenix Gorilla
You'd have to start small, because launching a start-up league costs millions.  Your hope is always that you'll be bought off by a bigger league, as in the AFL-NFL and the ABA-NBA mergers.  Problem is, there is no major ballet league right now, except for the Russian Super Ballet League, where the Bolshoi slugs it out against the Kirov, the Ballet Russe, and the Vladivostok North Stars. 

Fort Wayne Mad Ants mascot:  You can't make this stuff up.
So your best bet is to start a minor league, such as the NBA's Development League, where the basketball stars of tomorrow work on their moves in the hopes that some overpaid NBA star will tear an anterior cruciate ligament and give them a chance at the big time. Then they can trade in their Fort Wayne Mad Ants jerseys for official NBA uniforms that will attract comely females like mosquitoes to a Bug Zapper.

"Svetlana on a breakaway–Phi Slamma Rond de Jambe!"
I don't mean to get ahead of myself, but if you use your imagination, you can dimly perceive what a late-season broadcast of a Quad City Pirouettes vs. the Tulsa Plies game might sound like:
IVAN "BUD" VOLUNSKY:  Good afternoon and welcome everybody to the National Ballet Development League's Game of the Week, with the Quad City Pirouettes taking on the Tulsa Plies in a must-win contest for both teams.  I'm Bud Volunsky for the play-by-play here with my partner Olga Spissevtska, handling the color commentary.
OLGA SPISSEVTSKA:  Thanks, Bud.  You know, the bottom line for this late-season match-up is that both teams have their backs against the wall, and there's no tomorrow.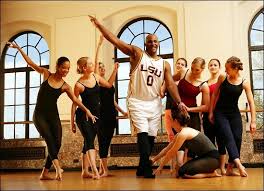 Glen "Big Baby" Davis, getting a correction
BUD:  Were they having a clearance sale on cliches at Danskin, or did you have a double venti latte before the game?
[Fake laughter.]
OLGA:  Seriously, Bud, after that mid-season brawl at the BankSouthWestNorth Forum where Elizaveta Gerdt collided with Vera Trefilova on a breakaway rond de jambe, resulting in flagrant fouls and toe shoes thrown into the stands . . .
BUD:  Not a pretty picture, Olga.
OLGA:  So let's hope the girls . . .
BUD:  And the boys . . .
[More forced laughter]
OLGA:  . . . can keep things under control today.  I'd hate to see a fan hurt by a flying celery stalk!
BUD:  Okay, Olga, thanks.  Ready for the opening jete–Quad City controls and brings it down.
OLGA:  Tulsa's in a zone cabriole–looks like something out of early Balanchine.
BUD:  Tamara Preobrazhenskayakarsavinakshesinskaya sets up in the low post–and she gets whistled for three seconds!
OLGA:  With a patronymic like that, it takes her a lot of time to get out of the lane.
BUD:  Tulsa with the ball, Pagnogovena, a free agent out of Moscow State, controls the tempo.
OLGA:  This girl's got the complete package.  She's not a soloist, she's a pass-first type with a nice glissade and a quick first step to the basket.
BUD:  And if can say this on a local cable channel, a nice set of gargouillades.
OLGA:  Get dehors of town, you mook!
BUD:  They're working the pique-et-role.  Vaganova cuts to the hoop–Phi Slamma Rond de Jambe!
OLGA:  Oh, baby!
Available in Kindle format on amazon.com as part of the collection "Dance Fever."