WASHINGTON.  Under tough questioning by Republican Senators, federal judge Sonia Sotomayor stumbled over several key questions today, leading opponents of her nomination to the Supreme Court to question whether she is in fact the "wise Latina" referred to in an oft-cited 2001 speech.
"Jose Matta?  Ricky Bones?"
"Who is the only Puerto Rican pitcher to win 20 games," Senator John Cornyn of Texas asked Sotomayor in one heated exchange.
"I'm going to go with Javier Vazquez," the Harvard Law School graduate said to an audible gasp from the gallery.
"That would be Ed Figueroa, 20 wins, 9 losses, 1978," Cornyn said, as he yielded the balance of his time to Senator Mitch McConnell.
McConnell:  "I'm only looking for two albums–that shouldn't be so hard."
McConnell, a mambo and cha-cha-cha aficionado, challenged Sotomayor to name two albums by Tito Puente, the Puerto Rican-born "King of Latin Music".
Sotomayor appeared flustered.  "Uh–Santana and Caravanserai?" she asked with hesitation.
Tito Puente
"Carlos Santana is Mexican–not Puerto Rican," McConnell said with a visible sneer.  "Here's a couple for you: Mambo, Mambo–Hot Timbales!–Mambo King Meets Queen of Salsa–shall I go on?"
Senator Patrick Leahy (D-Vt.) asked McConnell to stop badgering Sotomayor, and the Kentucky Senator yielded to Tennessee Senator Lamar Alexander, a less confrontational questioner.
"Stare decisis . . . stare decisis . . . I can't get it out of my head!"
"Judge Sotomayor," Alexander began in an unctuous tone that restored a sense of decorum to the Senate hearing room.  "I'm sure you'll agree that West Side Story is one of the greatest works of the American musical theatre."
"I would, Senator, even though Leonard Bernstein probably learned Latin culture from his cleaning woman."
"Fair enough.  My question–which of that Broadway show's two gangs–the Jets or the Sharks–is Puerto Rican?"
Sotomayor conferred with her counsel before answering in a halting tone–"The Jets?"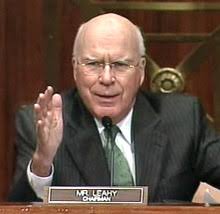 Leahy:  "Give her another chance, okay?"
At that point Leahy, who is Chairman of the Senate Judiciary Committee, conceded defeat.  "You don't get a lifetime seat on the Supreme Court," he said soothingly to the nominee, "but we have the home game version of Senate Confirmation! as a consolation prize."