A.J. Liebling begins "The Sweet Science", his lively collection of boxing pieces, by recounting how, since he had been tapped on the chin by Philadelphia Jack O'Brien, he could trace his fistic lineage back to the dawn of boxing's modern age.  After all, O'Brien had been hit by Bob Fitzsimmons, who had been hit by Jim Corbett, who had been hit by John L. Sullivan, the last heavyweight champion of the bareknuckled era and the first of the gloved era under the Queensbury Rules.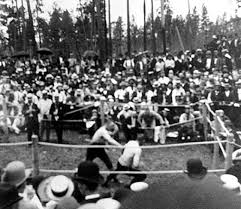 A.J. Liebling and John L. Sullivan:  Brothers in fisticuffs.
I can, in similarly facetious fashion, trace my roots back to the dawn of the Mississippi Delta blues.  After all, I've jammed with Mississippi Fred McDowell.
McDowell is probably the only musician commonly associated with the Delta blues to have moved into, rather than out of, Mississippi.  He was born in Rossville, Tennessee, near Memphis, in 1904, but moved to Como, Mississippi in the early 1940s.  I was born in Washington, Missouri, near St. Louis, in 1951.  We met in Chicago in 1972, when he was 68 and I was a fuzz-faced lad of 20, practicing harmonica when no one else was around.  For their sake, not mine.
I had come to Chicago in 1969 to go to college but also to experience the blues, which I had heard on albums by a black man, the second Sonny Boy Williamson, Aleck Rice Miller, and a white man eight years older than me, Paul Butterfield.  Williamson II was one of the first harmonica players to play with the aid of a microphone and amplifier, which transformed the tinny sound of the harmonica into something new and entirely different.  If you thought of The Halls of Montezuma or Gabby Hayes playing around a campfire when you heard an acoustic harmonica, you thought of an elevated train rushing above the streets of Chicago when you heard the amplified blues "harp".

Aleck Rice Miller, a/k/a "Sonny Boy Williamson II"
I picked up a few tips from a janitor in my dormitory, and a few more listening to some of the better harp players on campus, particularly Jeff Carp, who played on the seminal "Fathers and Sons" album that brought the older, black generation of blues men such as McKinley Morganfield, a/k/a Muddy Waters, together with a younger generation of white blues musicians including Butterfield and Mike Bloomfield.
McDowell's instrument of choice was the slide guitar, which he played first with a pocket knife, then a rib bone, and finally with a glass bottleneck that produced a clear, limpid sound.  He showed up on campus in my junior year for the annual Folk Festival at the University of Chicago, where blues guitarist Elvin Bishop, a member of the original Butterfield Blues Band, had been a student before dropping out several years before.  As I heard it from my dorm resident, Bishop smoked marijuana in his Introduction to Humanities class before anyone knew what the weed was or what its smell signified.

The Butterfield Blues Band, with Elvin Bishop
When McDowell's performance was over, a friend called and said the bluesman was going to spend the night at his apartment, would I like to come over and jam.  With all the modesty that is youth's most honorable quality, I said yes, packed up my harmonicas, and hurried over.
McDowell wasn't there when I arrived, but he eventually made his way up the stairs to the second floor apartment.  The scene must have looked like many other house parties he had performed at in his time, but this time he wasn't playing to raise the rent money.  He would play a few songs as a token of gratitude for a meal (probably chili) and a bed.
McDowell's music on slide guitar had come to the attention of a wider audience when The Rolling Stones played his song "You Gotta Move" on their Sticky Fingers album, so after five decades as a performer he had became an overnight sensation.  He refused to capitalize on his newfound fame, however, going so far as to name his first electrified album "I Do Not Play No Rock 'N' Roll".
He was a slender man who carried himself with dignity.  He sat on a chair and, however much the crowd may have expected a rollicking blues number, he slipped into a peaceful, almost haunting tune running his glass slide up and down the neck of his guitar.  The atmosphere he created was almost sacred–not a mood I was used to facilitating, but I slowed down to his beat.  We played two or three songs, then he stood up, bowed slightly at the waist and made his way stiffly to the kitchen to appreciative applause.
A season later, in the summer of that year, he died of cancer.  He was buried beneath a gravestone that inaccurately gave the year of his death as 1872.  In 1993, a memorial paid for by slide guitarist Bonnie Raitt that corrected the error was placed at his grave.